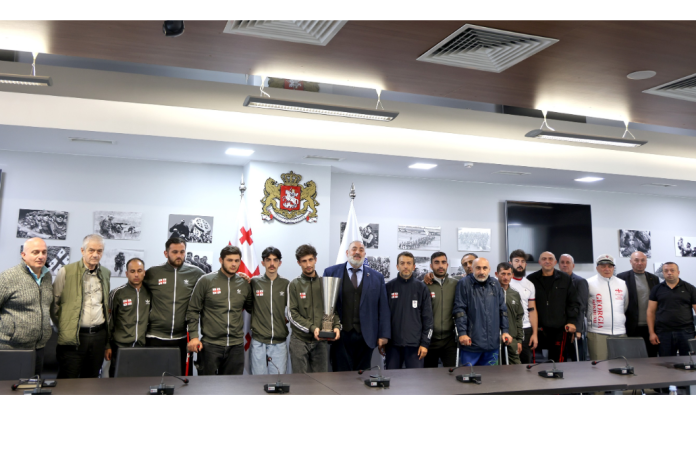 Major General Koba Kobaladze, Director of the State Service of Veterans Affairs, hosted the amputee football team of Georgia, congratulated them on taking the first place in Group C of the European Nations League, and gave memorial gifts to the members of the team.
"A person is moved by the soul, and it is welcome that you have made not only your own team famous but our country with your spiritual strength.
Our comrade, war veteran, Avtandil Chikhladze made a great contribution to the development of amputee football, and I am glad that even after his death you continue to play with great braveness. Thus, they showed us an example of struggle and perseverance. We see new faces driven by enthusiasm and motivation. Congratulations on this victory. Let this victory be the harbinger of future success," Koba Kobaladze said at the meeting.
Georgian amputee football team took first place in Group C of the European Nations League. The Georgian national team played a 0:0 draw with Ukraine. On October 7, Georgians defeated Greece 2:0, on October 6 they defeated the Belgian national team with a score of 5:0 and ended the match with Israel in a 3:3 draw. In the end, Georgia and Ukraine scored 8-8 points, but with a better ball difference – 10:3. Georgian national team took the first place and won the champion's cup. Lasha Bregvadze became the top scorer of the tournament with 5 scored goals, and Ruslan Shahumian was named the best player of the tournament.
The meeting was attended by the Deputy Director of the State Service of Veterans' Affairs, Jandri Ubiria, the director's advisor, Vladimir Imnadze, responsible officials of the Service and the president of the Football Association of Georgian Amputees, Giorgi Gvalia.