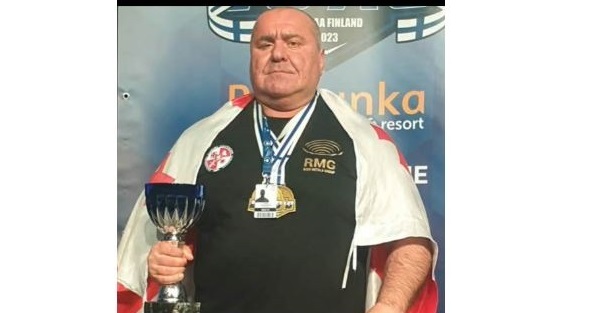 Veterans and active athletes from 17 countries of the world took part in European Armwrestling Championship in different weight categories in the city of Lauka, Finland within the format of the International Armwrestling Federation (IFA). Khachidze, a veteran of the war and defense forces, who returned to his homeland with 2 gold and 1 silver medal, was among the 13 athletes of the Georgian national team.
The mentioned championship was founded in 2019 and Georgian athletes successfully compete in it every year. In 2023, the national team of our country completed the European Championship with 18 medals. Georgian sportsmen won 10 gold, 6 silver and 2 bronze medals in different weight categories, right and left arm wrestling. The State Service of Veteran Affairs congratulates the veteran of the war and defense forces, Zviad Khachidze, on the title of winner of the European Championshipand wishes him many more successes.
Zviad Khachidze, European veteran champion, is preparing for the World Championship, which will be held in Kuala Lumpur, the capital of Malaysia, in September, 2023. We hope that our famous athlete will return from Malaysia as a winner.