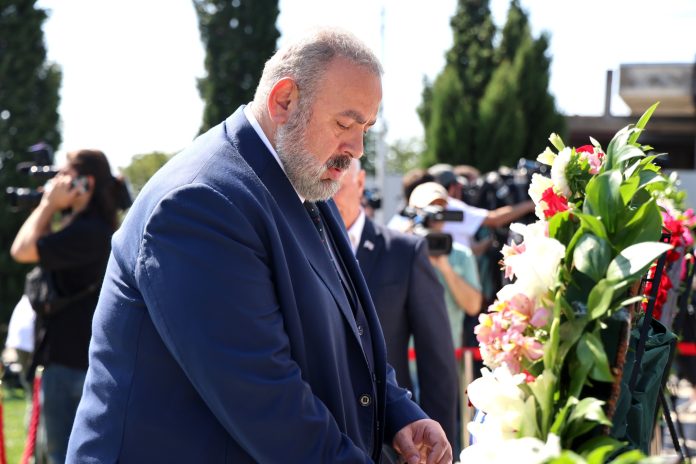 Major General Koba Kobaladze, Director of the State Service of Veterans Affairs, together with the representatives of the Service and veterans laid a wreath at the Memorial of Heroes on the 15th anniversary of the 2008 Russo-Georgia War. They decorated the graves of the fallen fighters at Mukhatgvedi Brothers Cemetery and honored their memory who died on the battlefield for the integrity of the country during the 2008 Russo-Georgian War. The information is spread by the State Service of Veterans Affairs.
Reportedly, Kobaladze offered his condolences to the family members of the soldiers who died in the war and once again expressed his sympathy and respect for them. He thanked the families of the soldiers who sacrificed themselves to Georgia for raising worthy children who are loyal to the motherland.
"We share lots of tears and pain, but at the same time we do not lack the spirit of life, struggle and victory. Today, I would like to offer my condolences to the parents, family members, and my entire country of heroic men and girls once again. May God grant them eternal peace. We hope that sacrifice they made will not be in vain, this country will be strong and free. Furthermore, I would like to offer my condolences to the families of people who died in Shove. May God's grace strengthen us all" said Koba Kobaladze.
Today the Prime Minister of Georgia, members of the government, representatives of the diplomatic corps were present at the Mukhatghedi Brothers Cemetery in order to honor the memory of the soldiers who died for the territorial integrity of the country in the 2008 Russo-Georgia War.
According to the information spread by the Ministry of Defense, a total of 169 servicemen are considered dead in the 2008 Russo-Georgia war, five of them are still considered missing. In 2008, 228 Georgian civilians and 14 policemen were killed, and 1,747 were wounded due to Russian intervention. Nearly 150,000 people were forced to flee from their homes, 30,000 of them are still in exile.