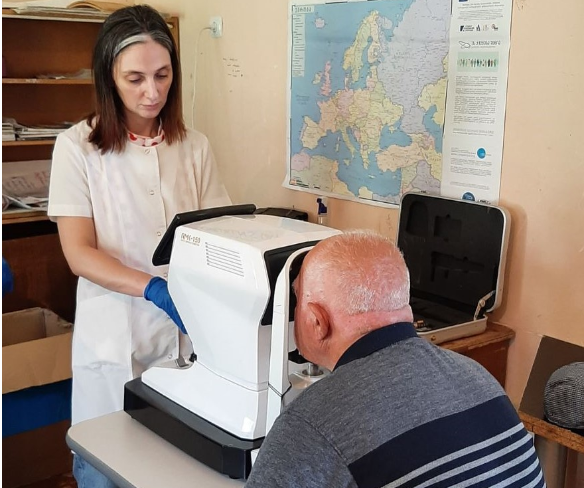 On July 15, 2023, Lions Eye Diabet Clinic-Georgia conducted free ophthalmological examinations for veterans of war and defense forces and their family members living in the village of Dvani, Kareli municipality as a part of the Memorandum of Cooperation. The event was organized by the State Service of Veterans Affairs.
A group of 12 qualified doctors (ophthalmologists, endocrinologists) with high-tech equipment participated in the charity healthcare event. The beneficiaries of the service were also given free optical means (160 glasses).
82 beneficiaries of the Service enjoyed free medical event, out of whom 41 were veterans and 41 were family members of veterans. More than 110 healthcare visits were paid.
Valerian Dzebisashvili, Head of Department of Social Issues and Accounting and Analytical Department of the State Service of Veterans Affairs, Vazha Dalakishvili, Head of Department of Regional Management of the Service, Levan Amiridze, Head of Shida Kartli Division, Zviad Sabashvili, Head of the Service's Monitoring and Audit Division, Gia Edilashvili visited the event on the spot.
It is noteworthy that Lions Eye Diabetic Clinic-Georgia has rendered quality free healthcare services to 723 beneficiaries of the State Service of Veterans Affairs within the framework of charity healthcare event which was held countrywide.
The memorandum of cooperation between the State Service of Veterans Affairs and Lions Eye Diabet Clinic-Georgia was signed in 2016 and is updated annually. Free healthcare events are organized permanently throughout Georgia.
Within the framework of existing memoranda with different medical institutions, charity healthcare events for veterans and their family members will be held throughout Georgia regrading which the veterans will be notified in advance.