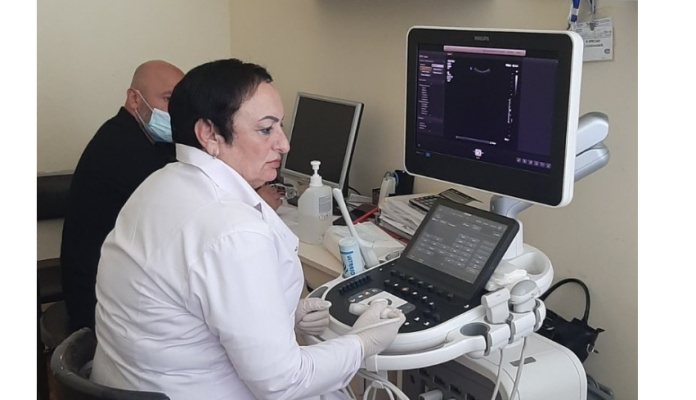 On July 22, 2023, Kutaisi Emergency Referral Hospital conducted free multi-disciplinary medical examinations for veterans of war and defense forces and their family members living in Ozurgeti, Guria. The event was organized by the State Service of Veterans Affairs. Information is spread by the State Service of Veterans Affairs.
Reportedly, 90 beneficiaries of the Service benefited from the charity event, 52 of whom were veterans, and 38 were family members of veterans. Overall, 140 healthcare visits were paid.
Valerian Dzebisashvili, head of the Social Affairs and Accounting-Analytical Department of the State Service of Veterans Affairs, Vazha Dalakishvili, Chief Specialist of the department, and Gela Bakanidze, head of Division of the Regional Management Department in Guria, got acquainted with the progression of the event on the spot.
A group of 15 doctors (cardiologist, general surgeon, therapist, urologist, gynecologist, radiologist, endocrinologist, neuropathologist, angiosurgeon, oto-rhino-laryngologist, pediatrician) participated in the charity event. The action was held at Ozurgeti Medical Center "Saakimo" whose head Mrs. Irina Goguadze is thanked by the Service for her support.
Accordinf to the report, within the framework of the memoranda of cooperation concluded with different medical institutions, contemporary charity medical events will be organized for the beneficiaries of the Service countrywide. The veterans will be notified regarding the events in advance.