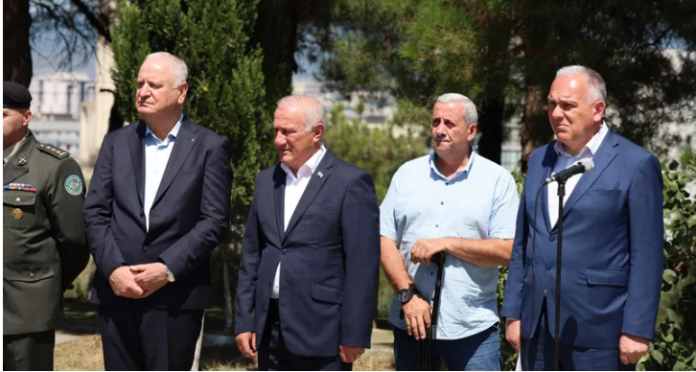 Davit son of Abel Zakaraia was buried with military honors at Dighomi Brothers Cemetery who died during the hostilities for the territorial integrity of Georgia, in Abkhazia.
Information is spread by the State Service of Veterans Affairs.
Reportedly, Deputy Director of the State Service of Veterans Affairs, Jandri Ubiria, attended the ceremony together with the representatives of the Government of Abkhazia.
"Davit Zakaraia, son of Abel was born on January 7, 1968 in Sukhumi. He was enrolled in the third battalion of the 23rd brigade. During the hostilities in Abkhazia, he participated in nearly all decisive battles. He was killed on September 17, 1993, during the storming of Sukhumi. He was buried in Achadara, in the yard of his own house.
With the joint efforts of the International Committee of the Red Cross and State Ministry for Reconciliation and Civic Equality of Georgia, 13 identified persons were transferred from the occupied territory of Abkhazia, who died during the hostilities in Abkhazia in the 1990s, including 4 fighters – Givi Chelidze, David Zakaraia, Guram Khuntselia, Shakhivit Sichinava and 9 civilians – Shota Murusidze, Mose Margvelani, Anzor Todua, Genadi Todua, Vakhtang Chichua, Abel Pataraia, Davit Sharvadze, Jemal Iosava and Gulnara Abuladze. The cadaver of those identified, except for Davit Zakaraya, will be buried in different locations, in ancestral cemeteries, according to the decision of the families.
In 2010, a total of 601 cadaver were identified out of whom 243 were given to families with the involvement of the International Committee of the Red Cross, after the creation of two coordination mechanisms, one of which operates concerning the hostilities in Abkhazia in 1992-1993, and the other concerning the hostilities in Tskhinvali region between 1990s and 2008. Presently, 2049 military and civilian persons are still considered to be missing, whose search, identification and handing over to their families continues in a non-stop mode within the humanitarian coordination mechanism," the information said.