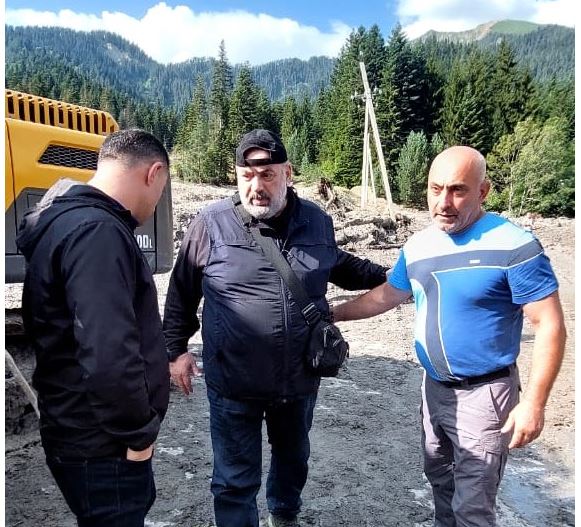 Major General Koba Kobaladze, Director of the State Service of Veterans Affairs, and Levan Amiridze, Head of Department for Regional Management of the Service, along with the representatives of the regional departments, visited the disaster zone at the resort of Shovi, Oni Municipality.
More than 30 veterans of war and defense forces have already been involved in disaster relief and rescue measures. More than 600 veterans and the medical staff of V. Sanikidze War Veterans Clinical Hospital have been fully mobilized who are ready to engage in rescue and liquidation operations of the consequences of natural disasters at any time in coordination with the relevant agencies.
Firemen and rescuers of MIA Emergency Management Agency, police divisions, drones, special equipment and a border police helicopter are involved in the works underway in the disaster zone. Concurrently, a group of canine specialists of MIA Emergency Management Agency and a field headquarters have been set up to ensure constant contact with the coordination headquarters erected in the city hall of Oni municipality. Geologists are also working on the site. According to the decision of the Prime Minister of Georgia, Irakli Gharibashvili, the defense forces have been involved in the ongoing works at Shovi resort.
As a reminder, a landslide took place in Shovi on August 3, 2023. Presently, 210 people have been evacuated from the disaster zone. According to the latest official data, 16 people died in the landslide. The search for up to 25 missing citizens continues in a non-stop mode for the third consecutive day.
According to the decision of the Prime Minister of Georgia, August 7 was declared a day of mourning in honor of the memory of those who died due to the natural disaster that occurred on August 3 at Resort Shovi, in Oni Municipality.
National flags will be lowered on the entire territory of Georgia from 00:00 on August 7 2023 till 00:00 on August 8.
In addition, national flags will be lowered from August 8 at 00:00 to August 9 at 00:00 to commemorate those who died as a result of the large-scale military intervention carried out by the Russian Federation in Georgia for the illegal occupation of Abkhazia and Tskhinvali Regions of Georgia.