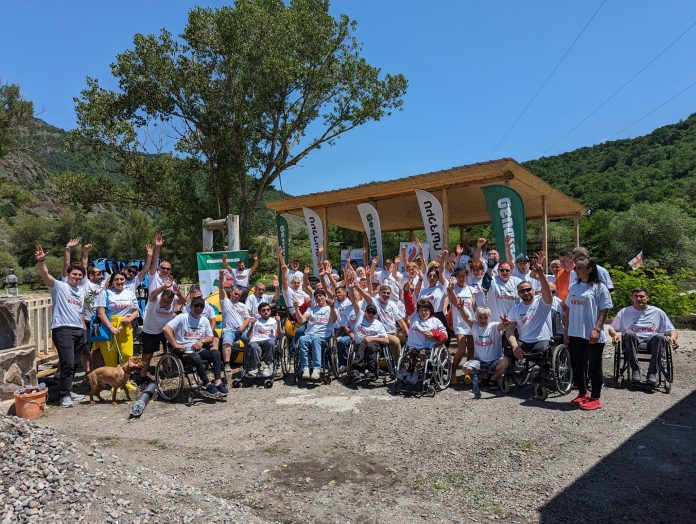 The summer season of the project "Active life is my Aspiration" carried out by the Youth Media Union has moved to the adapted field camp in Borjomi and hosted about 200 disabled people living in different municipalities of Georgia – soldiers wounded in international peace missions and war veterans. The Campaign was supported by the State Service of Veterans Affairs and the Ministry of Defense of Georgia.
At the first stage, championship in rafting named after Goderdzi Zakaria, the hero of the war of Abkhazia, and tournament in archery were held, in which 6-person teams from 11 municipalities of the country and the State Service of Veterans Affairs participated at the championship of Georgia. The participants spared no effort and fought to the end for victory. They encouraged the members of the opposing team with shouts and declared that everyone is a winner in the tournaments held within the framework of the project.
The integrated championship in rafting named after Goderdzi Zakaria, the hero of the War of Abkhazia, turned out to be very exciting. The teams of different municipalities were competing with one another in the championship held in several stages. The team from Gori Municipality did not let anyone to take the first place, and the transitional cup was sent to Gori for one year. The archery championship was very adventurous too. All the teams fought hard for the victory, however, one of the teams from Kutaisi was lucky to win. They also won the title of champion, and the transitional trophy of the archery tournament will be housed in Kutaisi for one year.
The winners of the championships were awarded cash prizes, paid gifts, cups, diplomas and medals.
The general sponsor of the event is "Initiative Platform", and the sponsors are "Socar" and "Kutaisi International University".
The project promotes the implementation of Article 30 of United Nations Convention on the Rights of Persons with Disabilities 2006.