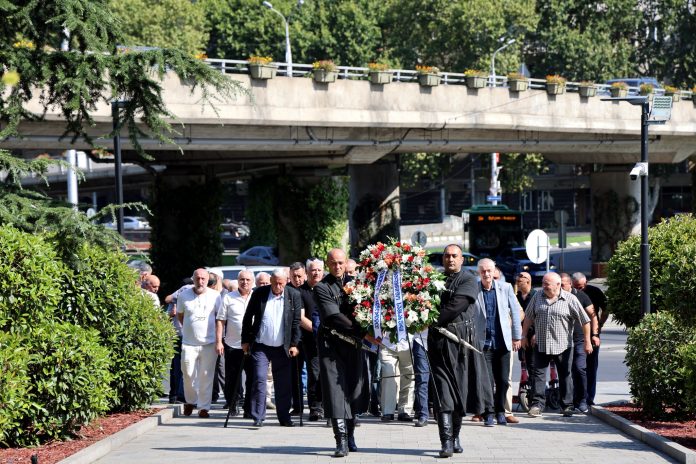 31 years have passed since the outbreak of hostilities in Abkhazia. Major General Koba Kobaladze, Director of the State Service of Veterans Affairs, First Deputy Director Nikoloz Kvezereli, Deputy Directors Miron Chigogidze, Jandri Ubiria, Advisor to the Director Vladimir Imnadze, along with the representatives of the Service and veterans laid a wreath at the Memorial of Heroes who died for the territorial integrity of Georgia and once again honored the memory of the soldiers who fell on the battlefield for the unity of the motherland.
"I would like to offer my condolences to the families of the soldiers and to entire Georgia because each person who had been killed in this unequal battle is a great pain for our country as a whole. The countdown of tragic days in the history of our country began on this day. Many brave people and beautiful girls died during this tragedy. It is ironical that many people are eloquent today who have neither sweated and shed blood nor experienced any pain…
If we take a look at it, 1991, 1992, 1993, 1998, 2004, 2008 – all these processes were aimed at checking whether we have the ability to fight for freedom. Yes, we have the ability, not only to fight, but also to ensure that this country will be undeniably free," said Koba Kobaladze.
The memory of the heroes who died for the integrity of the country was honored by the Deputy Minister of Defense of Georgia, Giorgi Bubunauri, Chairman of the Government of Abkhazia, Ruslan Abashidze, and Deputy Minister of State for Reconciliation and Civil Equality, Shota Rekhviashvili at Heroes Square.
The military conflict in Abkhazia commenced on August 14, 1992. Georgian military formations fought against Abkhazian separatists, North Caucasian confederates, Cossacks, "Bagramian battalion" composed of local Armenians and supported by Russia for the integrity of Georgia. The unequal battle lasted 13 months and 13 days and ended with the fall of Sukhumi on September 27, 1993.
Nearly 300 thousand citizens of Georgia, absolute majority of whom were ethnic Georgians, became displaced persons due to the war. Approximately 5,000 military personnel and fighters of paramilitary units died, approximately the same number of Abkhazians who fought with weapons in their hands died during the hostilities. Furthermore, the number of dead, among civilians of Georgian nationality, is twice as high as the result of mass shooting of ethnic Georgians by separatists and their allies. Hundreds of people were gone missing without trace, and up to 10 thousand got injured and mutilated during the war.