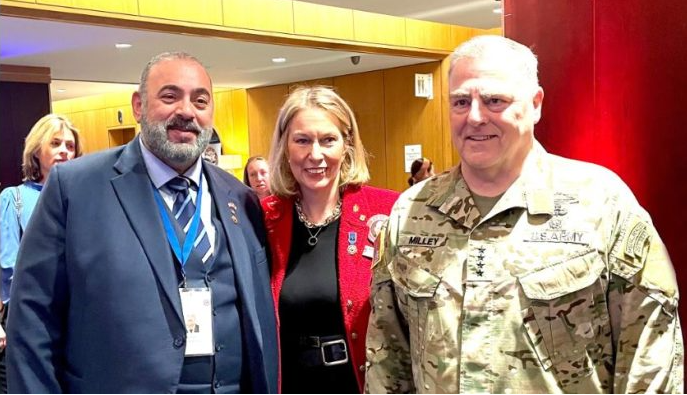 Major General Koba Kobaladze, Director of the State Service of Veteran Affairs, as an honored guest, together with the Georgian delegation, attended the 29th international charity annual event "TAPS" ("Tragedy Assistance Program for Survivors") within the framework of his working visit to the USA.
"Today we have been the honored guests of a very exciting event, at the invitation of the founder and president of TAPS, Mrs. Bonnie Carroll. The event was attended by many guests, including the Chairman of the US Joint Chiefs of Staff, the country's highest-ranking military officer, General Mark Milley, the chief military adviser to the President, the Secretary of Defense and the National Security Council, who thanked the Georgian delegation, including our the country during his speech, greeted the veterans of Georgia and all those people who fought and are fighting for the freedom of their country. Yesterday, we signed a memorandum of understanding with TAPS that will allow us to work together to care for our veterans and family members of fallen military personnel. "This event was held in support of the family members of the fallen soldiers and was attended by hundreds of people from different countries," said Koba Kobaladze.
The international charity organization "TAPS" was founded in 1994 by Bonnie Carroll, the wife of the Army Brigadier General Tom Carroll, an American veteran, to support the families of fallen soldiers. Since the day of establishment, TAPS along with different charity and support activities has annually held large-scale events attended by family members of deceased military personnel from the United States of America and other countries.
In 2023, the 29th international event of TAPS was also attended by Irakli Chanturidze, Deputy Head of the Legal Assurance Department of the State Service of Veteran Affairs, Mariam Adamashvili, Head of the Protocol Department, Paata Patiashvili, Senior Counselor of the Embassy of Georgia in the United States of America, and the US and Canada Defense Attaché, Colonel Robert Arghvliani.
During the 5-day gathering, the family members of the fallen soldiers will participate in different support activities.
Major General Koba Kobaladze, Director of the State Service of Veteran Affairs continues to meet with governmental and non-governmental sectors in the USA.