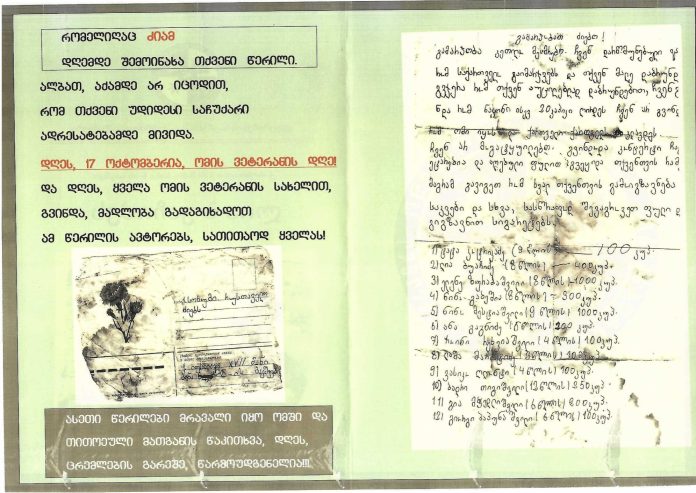 The schoolchildren living in the 17th micro district of Rustavi wrote a letter to the soldiers fighting for the territorial integrity of Georgia in Abkhazia30 years ago. The children sent small gifts bought with the collected money to the fighters together with the letter. The letter reached the addressee and was kept with them for years.
"Hello dear friends,
We are sure that Georgia will win and you will return soon. We believe you will definitely come back. We want ice cream to cost 20 kopecks again. We do not want war and Georgians killing Georgians. We will not deceive you. We wanted to hold a concert and use the money to buy something for you, but we heard that food and other things will be sent to you tomorrow, so we immediately collected money and are sending you cigarettes.
Tata Kotrikadze (9 years old) _ 100 kup.
Lia Buachidze (8 years old) _ 400 kup.
Elene Zurabishvili (8 years old) _ 1000 kup.
Nino Gabeshia (8 years old) _ 300 kup.
Nino Mestiashvili (9 years old – 1000 kup.
Ana Gagnidze (5 years old) _200 kup.
Roin Rekhviashvili (4 years old) _ 100 kup.
Lasha Machitidze (8 years old) _ 100 kup
Vasiko Ghlonti (4 years old) _ 100 kup.
Badri Tigishvili (12 years old) _ 250 kup.
Gia Mchedlishvili (6 years old) _ 200 kup.
Giorgi Papunashvili (6 years old) _ 100 kup.
Levan Amiridze, the head of the Department of Regional Management of the State Service of Veterans Affairs and the representatives of the Kvemo Kartli Division searched for the authors of this letter and invited them to the event dedicated to Veteran's Day today.
The meeting with veterans was very emotional for them. Director of the State Service of Veterans Affairs, Major General Koba Kobaladze, thanked the honorable guests for their sincere love and support for the fighters and presented souvenirs on behalf of the Service.